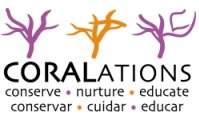 Ocean
Conservation
Youth Corps

Reef Ball ™ Artificial Reefs

Reef Restoration and Research Using Reef Balls™

CORALations is a distributor of Reef Ball™ artificial reef systems for the island of Puerto Rico. These artificial reef modules provide habitat for fish and settlement areas for corals. Reef Balls™ are made from environmentally friendly concrete designed to mimic natural reef in appearance and last for over 500 years.

CORALations and Puerto
Rico's Department of
Natural and Environmental
Resources work on artificial reef investigations using
the environmentally friendly Reef Ball™
artificial reef systems - Fajardo, Puerto Rico.
Reef Balls™ are inexpensive to deploy and have proven stable during tropical storms and hurricanes. For coastal communities interested in participating in these highly visible artificial reef projects, CORALations will contribute matching funds, evaluate locations, obtain permits and provide free training.
Reef Ball™ project. Hollow concrete domes are produced to eventually be towed and placed on the ocean floor to enhance coral and fish habitat - Fajardo, Puerto Rico.
NOTE: As a non-profit organization, CORALations puts revenue generated by the leasing of these systems toward the funding of its conservation programs in the Caribbean.
You can visit the Reef Ball™ Web Site at
http://www.reefball.org
---
About CORALations | About Coral Reefs | Ocean Conservation Youth Corps
Sea Turtles | Coral Reef Restoration
CORALations, Inc.
P.O. Box 750
Culebra, PR 00775
787-556-6234 / Fax 530-618-4605
1-877-77-CORAL 1-877-77(2-6725)
info@coralations.org